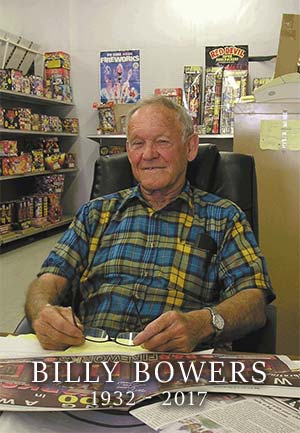 Remembering Billy Bowers
We are sorry to announce the passing of Mr. Billy Bowers, founder and owner of B&B Family Fireworks. May 26, 1932 – September 1, 2017


A New Partnership
Billy's family is pleased to announce Tennessee's Newest Fireworks Partnership, B&B Family Fireworks & TNT Fireworks. The store is still located at 5016 Murfreesboro Road, La Vergne, TN and will be reopening May 25th through July 7th and again from December 27th through January 1st.

As we begin our new partnership, we will offer great deals on a great selection of fireworks, including a close out sale featuring huge savings on 167 discontinued items, and free fireworks with your purchase.

Please note that Pickup-in-Store is not available at this location.